Book Review: Imagination Station #13: The Redcoats Are Coming!
Imagination Station #13: The

Redcoats

Are

Coming

!
by Marianne Hering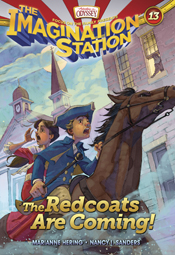 I'm a big fan of the Imagination Station radio series: Adventures in Odyssey, so I jumped at the opportunity to review one of their books.
From the publisher:
The first of a three-book story arc about the American Revolution, The

Redcoats

Are

Coming

follows Patrick and Beth as they assist the revolutionaries by waking up the sleeping citizens of 1775 Concord before the

Redcoats

come

. In this adventure, the cousins meet Paul Revere, Samuel Adams, and John Hancock. They help smuggle musket balls, sound the alarm that the

Redcoats

are

coming

, and deliver a secret message to Paul Revere. Along the way they learn that most of the revolutionaries leaned on God's direction and even pastors helped in the cause.
Learn More ▶
It's a kid-friendly whimsical look at the time period just before Paul Revere's ride. I loved getting a little bit deeper glimpse into the life of the revolutionaries and I always enjoy historical fiction. It's an easy read that children will enjoy. And it would be great to pair with history lessons in a home school setting or a Christian school.
I would recommend this book to boys and girls ages 7-10, and I look forward to giving it to my son for his 9th birthday in a few weeks. I look forward, also, to reading more in the series.
I received this book as a gift from the publisher in exchange for my honest review.